Polyethylene gas pipeline has many outstanding characteristics, such as low-temperature resistance and good toughness. Polyethylene pipe has obvious advantages, which satisfactorily solves the problems of traditional pipeline corrosion and joint leakage. The main advantages of polyethylene pipes are corrosion resistance, non-leakage, high toughness, scratch resistance, long life and lightweight. In the gas transmission and distribution industry, the application of PE pipe fittings has increased rapidly, bringing many conveniences to the construction of gas projects. The China butt welding machine are also in this environment, and the demand has increased significantly.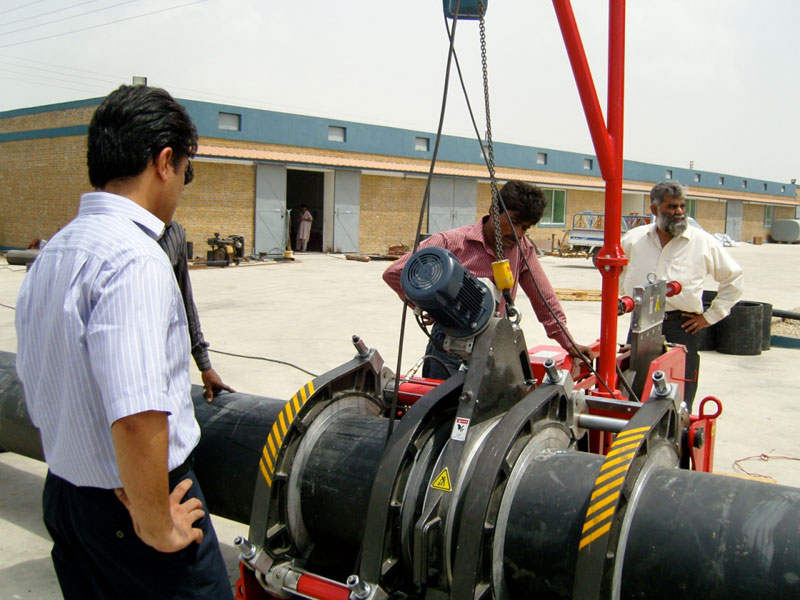 A butt welding machine is a tool for implementing butt welding of plastic pressure pipes. The working principle of the hot-melt butt welding machine is to use a certain pressure on the two ends of the pipe (piece) to be welded against a heating plate with a preset temperature for a period of time. After the pipe has reached a sufficient temperature, the heating plate is taken out, and the two ends to be welded are pressed to make the two welding end faces close contact, and finally, the two end faces are bonded together.
Generally speaking, plastic gas pipe welding and cutting machines are essential tools used in the gas and oil industry to join and cut plastic pipes. These machines are specifically designed to work with plastic pipes that are commonly used in gas and oil pipelines. Plastic gas pipe welding machines are used to join two plastic pipes together to create a secure and leak-free joint. These machines use various welding techniques such as butt fusion, electrofusion, and socket fusion. Butt fusion welding is the most common technique used in the gas and oil industry. It involves heating the ends of two plastic pipes and then pushing them together to create a permanent bond. Electrofusion welding uses an electric current to melt the plastic at the joint, and socket fusion welding uses a heated tool to melt the plastic and create the joint. In addition to welding, plastic gas pipe cutting machines are also used in the industry. These machines are designed to cut plastic pipes cleanly and accurately, ensuring that the ends are smooth and free from burrs. This is important to ensure that the pipes can be joined securely and that there are no leaks in the system.
Our plastic pipe welding machines have been used by many Gas Companies, high precision clamps design to keep quality welding.